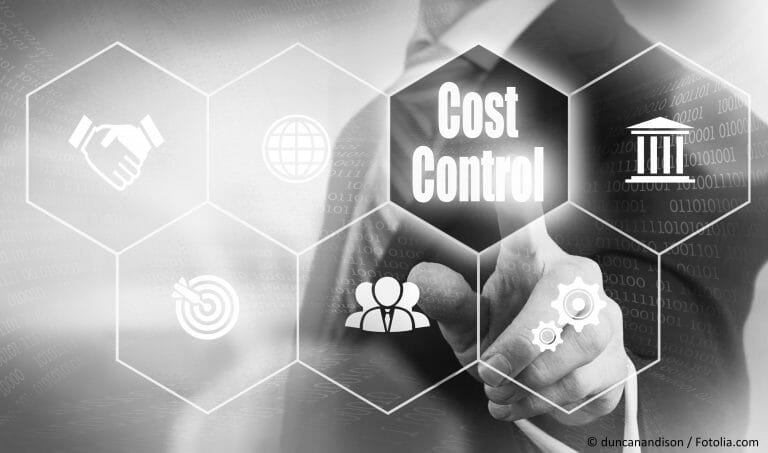 ImpulsLetter Q1 2019
Abstract
Optimization of procurement costs has been a great savings generator since the early 90s. On their way to maturity in procurement excellence, organizations have optimized what to buy, where to buy and how to buy. However, we have noticed that even with mature clients the procurement savings through tax optimization remain mostly untapped. This is all the more interesting as for instance effective tax rates (ETR) differentials between highly industrialized and low-tax countries amount to more than 20%. The objective of this paper is to explain the reasons for this and to show a way to optimize the situation thoroughly.
Procurement tax component not optimized today
With the professionalization of the procurement function main efforts are to optimize cost components and many organizations have done so successfully – with the remarkable exception of the tax component. Our experience shows four good reasons for that:
Tax costs are not only product related but depend also on the country, the selling and procuring organization are registered
Tax costs depend on the chosen legal and tax scheme from one single entrepreneur on the one side to multi-entrepreneur schemes on the other extreme
Operational business units do not have tax targets as optimization levers are bigger on corporate level
Tax is a major compliance issue for globally acting organizations and thus under direct control of the executive board, mainly the CFO
Complex savings potential calculation
Tax optimization in procurement is easy to imagine: if your supplier currently manufactures a finished good in China, your procurement organization operates in Germany and you sell it to France, the benefits will be generated in Germany with an ETR of around 30%. Moving your procurement department's operations closer to China, for instance to Hong-Kong, will allow your organization to generate the benefits there and profit form an ETR of 16,5%.

The immediate conclusion would be to transfer all procurement orders to a tax optimized country. The apparent savings potential then sums up to 20% as the effective taxation rate in highly industrialized European countries is close to 30% and main interesting international locations offer importantly lower taxation rates.
In reality savings potentials are lower as transforming a procurement organization for tax reasons is very challenging and risky:
the cross-functional aspect (procurement, logistics and finance/tax) implies high organizational complexity
compliance risks are high, for instance with corporate tax, internal transfer pricing and function shifting: Highly industrialized countries' tax authorities have put a major effort in controlling transfer pricing systems with the effect of lowering the benefits drastically. On top of that, these countries have also installed a "function shifting" taxation system which allows the authorities to tax the delocalization of a corporate function to a low-tax country.
tax advantages can only be realized on selected product categories and not the whole procurement volume
the future operating costs of building up a procurement function in a new location can be important and balance initial savings: Tomorrows salary levels, infrastructural costs and cost of living in location selected might be higher than today.
Knowing the different challenges and based on our operational expertise, we recommend strongly to first run a business case analysis, align executive and supervisory boards and then only start execution.
Structured approach leads to sustainable savings
Pre-requisite 1: As the complexity of this cross-functional optimization approach is high, we strongly recommend to run such a project on executive board level.
Pre-requisite 2: You will have to adapt your company's legal/tax organization and should definitely build a cross-functional team with finance/tax, procurement, logistics, external legal advisors and external consultants: only the alignment of all involved corporate functions plus the challenge trough the external expertise from the very beginning will lead to a sustainable success.
The main tasks to be executed in the business case are the following:
Analyze thoroughly your procured goods physical flows with the objective to build procurement category risk-classes for transferable procurement volumes. Focus especially on the value creation chain of your final products in order to illustrate your own organizational value add.
AAnalyze your current operating procurement model for the addressable categories: current supplier footprints, current purchaser locations, current associated procurement functions (supplier quality management, etc.), procurement IT-systems availability
Assess your organizations current tax scheme between one single entrepreneur and multi-entrepreneur, integrate the current transfer price model used. Also integrate historical evolutions of this schema in order to address change risks with local authorities.
Run a location selection process in order to identify the best fitting country. Focus first on operational levers (proximity to supply base, availability of work-force, cost of operations, etc.) and then address potential tax advantages.
Build scenarios based on cost advantages and associated operational and tax risks in order to find best fitting solution for your organization.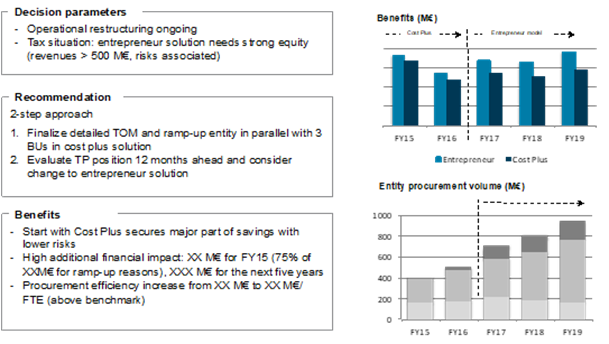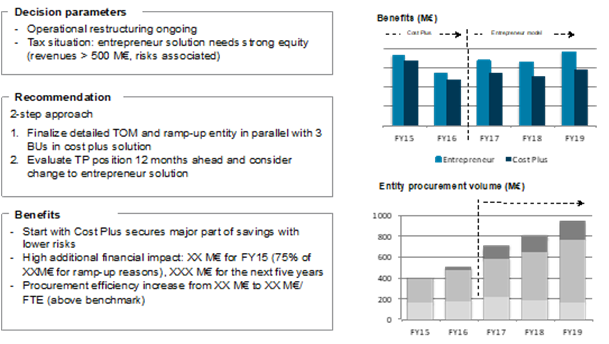 As a conclusion, our project experience shows tax-optimized procurement leads to a saving up to 10% on addressable scope. It is definitely a board task and requires a high excellence in project execution.
Marc Staudenmayer