Turnaround and Restructuring
Decisive reaction is essential for companies in crisis situations in order to avoid a worsening of the situation and to maintain room for maneuver. The stage of the company crisis determines both the objectives of action and the choice of necessary measures.
In order to bring companies back on track for success and to preserve the company's core, strategic realignments and structural adjustments are essential. For this to succeed in times of crisis, operational and financial turnarounds are often necessary. These turnarounds avert restructuring cases and allow the business to continue until long-term measures take effect.
The following questions are particularly relevant for turnarounds and restructurings:
How can sufficient liquidity be ensured until long-term measures take effect?
What strategic and structural changes are necessary to restore long-term business viability?
In the case of personnel restructuring, what measures are necessary to make it successful and smooth?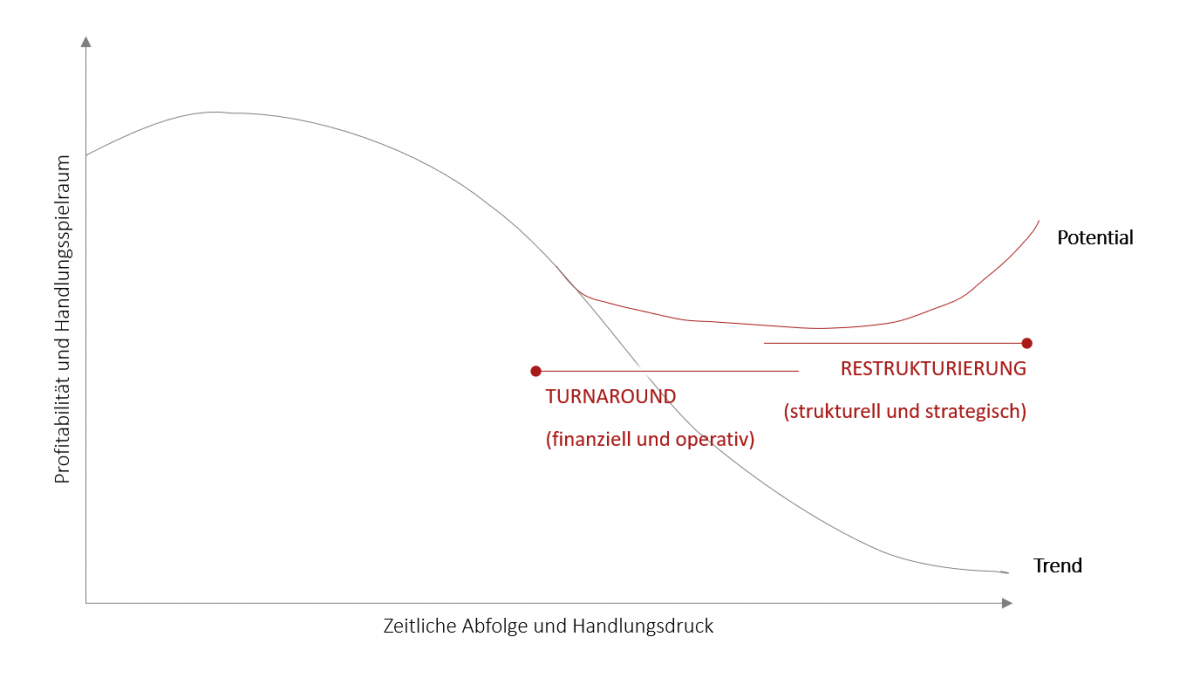 Our approach
ADVYCE sup­ports and ac­com­pa­nies clients in par­ti­cu­lar with the fol­lo­wing con­sul­ting ser­vices:
Realizing operational and financial turnaround
In situations of impending illiquidity, securing solvency is a basic prerequisite for the company's continued existence. In the turnaround area, we secure liquidity in the short term through working capital management modules, but also through data- and automation-driven optimization approaches in inventories and processes.
Our approach includes both measures to reduce material costs and personnel measures that are effective in the short term. Our methods are aimed at both financial effectiveness and safeguarding operations. These steps are an important prerequisite for further restructuring measures.
Implementing strategic and structural restructuring
In order for companies to improve their situation in the long term, strategic and structural measures are required. Based on the strategy review, we determine the savings potential from strategic and structural measures for top management. We validate this together with the functional managers and define organizational measures down to the job level.
Our experience shows that staff reductions proceed as smoothly and silently as possible when managers apply a broad mix of socially acceptable adjustment measures. In addition, we develop alternative location concepts based on employee competencies and the existing infrastructure.
Integrating economic and legal personnel restructuring measures
When implementing restructuring measures, detailed organizational and communications preparation is essential. In addition, the negotiation of a reconciliation of interests and a social plan usually requires intensive legal support. Together with you and our legal partners, we find ways to master these challenges.
However, individual legal challenges also regularly arise in the implementation of individual measures. Together with our legal partners, we ensure project implementation from the strategy review to the follow-up of the last P&L-effective measure, without you having to coordinate internal or external interfaces.